Course details
[A Course] Miyazaki beef with Calbi ♪ Miyazaki beef rose all you can eat ◎ + Drinking 2! 3500 yen (included) → Sun - Thur 3200 yen (including)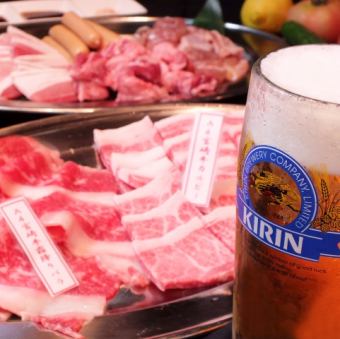 By using a coupon3200 yen
The above is a day to a tree price ※ It is 3500 yen on Friday, Saturday, and public holiday the case of two men [+500 yen]
All-you-can-drink available

Cocktails, wine, plum wine, shochu ... rich in all-you-can-drink!
Available days for reservation

Monday - Sunday - Public holidays - Holidays
Recommended for those who want to eat delicious meat cheaply ★ Recommended ★ Yakiniku course + Miyazaki beef Including rose meat More than 30 kinds can be enjoyed with all you can eat ♪
Course menu
【A Course】 Miyazaki Beef Calbi with Assortment & Frozen Roses All you can eat ☆
【First course content】
※ The following 6 products will be out first.
◆ chicken thigh
◆ pork
◆ Winner
◆ Falling Calvi
◆ Miyazaki beef Calbi
◆ Miyazaki beef rose
◆ well
★ In addition you can eat more than 30 kinds below.
~ All you can eat meat meat ~
A4 Miyazaki beef rose / middle fall Calvia / beef loin / bull Calbi / Harami / Rectum hormone / chicken thigh / rice cake / pig rose / Winner
~ All-you-can-eat contents of side menu ~
Caesar salad / Japanese style onion salad / rolled vegetables / Namuru / Kimchi / Terrier / Korean paste / onion / green pepper / cabbage / rice special for rice / rice (large / small) / apples lotus EN KUPA / stone bibimbap / spicy cold noodles / Egg soup / apricot tofu / coffee jelly / vanilla ice
All-you-can-drink menu
· "Barrel"
· Kirin Nodogoshi <Raw> / Chandigafu / Diesel (Beer × Coca Cola)
·"Highball"
· Whiskey rock / whiskey water split / high ball / cork hi / golden high ball / Calpis ball
·"sour"
· Lemon Sour / Lime Sour / Ume Sour / Orange Sour / Grapefruit Sour / Cork Sour / Calpis Sour / Grape Sour
·"Cocktail"
· Cassis orange / cassis grape / cassis oolong / cassis soda
- "Wine Plum"
· Franzia (red · white) / carimocio (coca cola × red wine) / kitty / operator (ginger ale × white wine) / cartini (calpis soda × red wine) / mellow plum wine
- "sake, shochu"
· Oniro Ogoshi / Kirishima / Black Kirishima / Hinata Kimiki / Hyuga Noodle (Black) ※ Please choose from rock · water split · tea ceremony.
·"Non-alcoholic"
· Lemon Sour / Lime Sour / Ume Sour / Cassis Orange / Cassis Grape / Cassis Oolong / Cassis Soda
·"Soft drink"
- Coca-Cola / Ginger Ale / Calpis / Calpis soda / orange juice / grapefruit / oolong tea / green tea
2018/07/05 update